Who is the best online personal trainer? Recently I wrote a detailed article on how to find your next online personal trainer and what to look for when making this important choice. With all the noise in the industry, it's hard to find the right online personal trainer that has a track record for providing the results you want.
When you find the right online personal trainer, it can be one of the best investments money can buy. With the current fitness influencer landscape being all about popularity contests we've compiled a list of people that have been proven to get great results. This list is based on the only things that matter when choosing an online PT, reputation and results.
So here's the list of the best online personal trainers in Australia in 2023:
Big Note: It may look to be a skewed result towards men but we are honestly on the hunt for amazing online personal trainers that specialise in helping women. Know one? Get in touch.
The best online personal trainer for men over 40 – Andrew Read
I've known Andrew for a lot of years. I started my journey as a PT and registered for the Functional Movement Systems and Russian Kettlebell Certifications which Andrew held at his gym in Melbourne. He has coached hundreds of personal trainers who would still be using the same time-tested and proven methods today. I am one of those PT's.
His no BS approach and 25+ years in the industry make him, from what I have experienced the best online personal trainer in Australia. If you're a man over 40 and need to make some big changes in your health and fitness journey, he's the man for you.
You can find more information via his website.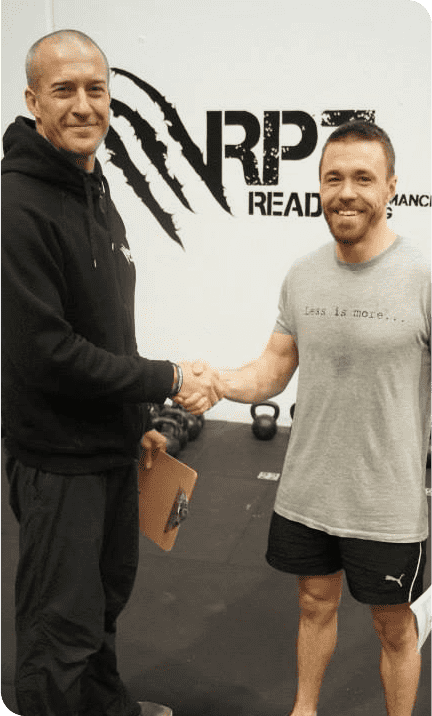 The best online fitness community for younger men – Strong Men Of Value
Lachlan Stuart is based out of Brisbane. His transparent and direct approach helps young men find their purpose and mission. I have had the pleasure of speaking with Lachie on his podcast where we discussed a range of topics.
His community is one of the few that dispose of the male ego and strip back to the essential elements of becoming a strong man. You can learn more about his amazing group on his website.
The best online personal trainer for fighters – Shaun Kober
I had the pleasure of working with and playing rugby against Shaun during my early days in the Australian Army. Aside from being an absolute weapon on the rugby and battlefield, he was a calm and confident leader. This is reflected in his skill in training fighting sports athletes. With his recent success with fighters in the UFC and being the head S&C coach at Tiger Muay Thai in Thailand he's the one to take your training to the next level if you want to perform.
You can find him on Instagram.
The best online training app for military veterans – Swiss8
A cause close to my heart is veteran mental health and suicide. Recently I sat down with the boys from Swiss 8 during a podcast to talk about life after the military. They're on the mission of helping prevent veteran suicide and mental health and I for one, am glad they're doing it.
If you're a military veteran, their app has a whole host of free content to get you back to your best. You can learn more on their website.
The Best Online Personal Trainer for upcoming Rugby League athletes
If you're an up-and-coming or current NRL or rugby league athlete, you need to go and see Ben Roberts. With a career that spanned over a decade at the top level of rugby league, he's seen and been through it all at the highest level.
With his focus on injury prevention and getting athletes to perform their best on game day, he is one of the best coaches in the field. You can get in touch via his website here.
The best online personal trainer for 30+ busy professionals
Finally, if you're a busy professional trying to simplify your fitness journey, look no further. Throughout my experience in special operations in the military, fast-growth startups and now being the founder of two companies, I know what it takes to manage your health and fitness around your busy schedule.
Check out our Habits Academy here.
The best online personal trainer for women
I'm still on the hunt for an amazing online PT that specialises in helping women. The reason I haven't just posted someone with a huge following is that this list works by referral and experience only. If you know an amazing online personal trainer that deserves the kudos, send them my way and we'd be more than happy to feature them.
So there you have it an honest but somewhat biased list based on people's experience and their results. A big congratulations for all who made it on the list, your hard work and effort is being noticed.
Wondering how to find an online personal trainer or fitness coach?
Check out this article where I run through how much they should cost and what you should expect from your next online fitness coach.